When Plungie was founded, we could see that the pool industry was screaming out for a new kind of concrete pool builder. We knew there had to be a way to make backyard pool ownership more achievable for homeowners. Not only did we come up with an innovative product solution with our pre-cast concrete plunge pools, but we also created a revolutionary process solution that allows us to work directly with builders. By creating a product that is ready-made, the thousands of already highly skilled builders are now able to undertake a pool project for their clients across America.
It may seem daunting to tackle pool installation as a builder, but we've made it as simple as possible with a Plungie. We've found that working trade direct gives builders more control over their projects and makes pool installation faster, easier, and more cost-effective for homeowners. Here's a rundown of why working trade direct means everyone's a winner.
Fast Concrete Pool Installation
We're big believers in the KISS principle (Keep It Simple, Stupid!). Working trade direct increases efficiency by simplifying pool installation. If you're a home builder, you may be familiar with the traditional pool-building process, which involves a specialist pool builder. With a Plungie, there's no need to get other (potentially less reliable) trades involved — you can manage the installation process as part of your normal business operations.
We think the installation should stay in the hands of the builder. Builders are the ones with the deepest understanding of the important factors on a construction site (such as soil conditions) so they can oversee the process smoothly. Builders can also manage site access for cranes and other equipment to work around their overall build. Plus, it removes the hassle of liaising with other trades throughout the project.
Because Plungies are precast, they're ready to be installed as soon as they arrive on site. You don't need to allow weeks for the curing process like a custom concrete pool. Time is money, so installing a pool and being able to get on with the wider project means builders can deliver bigger projects faster for their clients. Overall, working trade direct makes the entire installation process more efficient for builders and homeowners alike.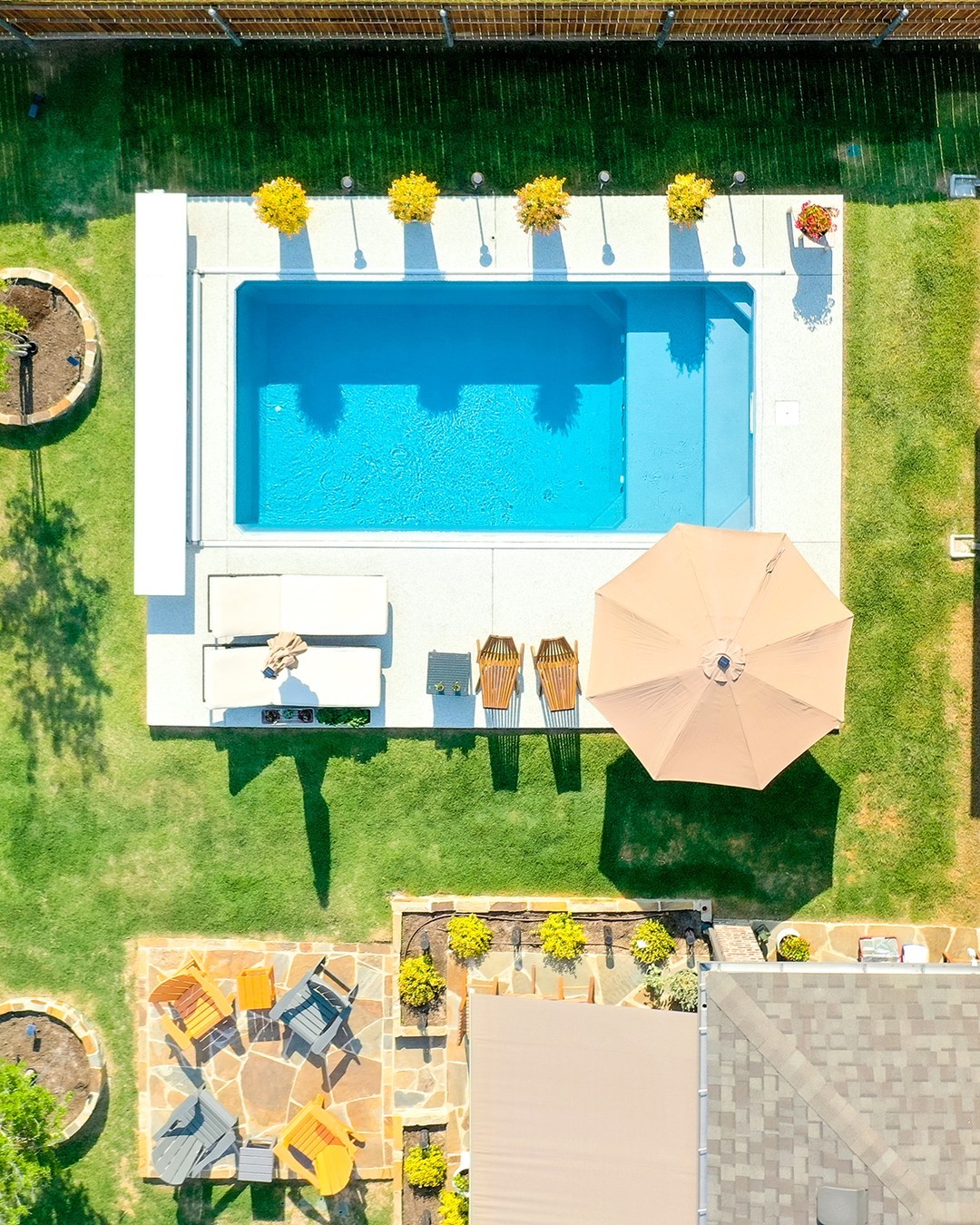 Create a Coherent Concrete Pool Design
We all know what happens when there are too many cooks in the kitchen. Similarly, when extra trades become involved in the pool design process, there can be more room for miscommunication and error. With a Plungie, the only parties that need to be involved are the builder and homeowner, so it's easier to collaborate and achieve the overall vision for the backyard without compromising along the way.
The backyard is an extension of the home. Drawing inspiration from architectural features for your pool design can help the spaces feel connected. As such, it makes perfect sense that the home builder should oversee both the home and pool build. With a cohesive vision for your pool surrounds and the ability to install above-ground, semi-recessed, or in-ground, there's no reason a Plungie can't look like it was custom-made for your property.
You can visit our gallery online to see how beautifully a Plungie can align with your home and surrounds, all without the extended timeframe and price tag of a custom-built pool. One project that walks the walk in terms of design integration is Villa Maya Custom Homes. Check out our blog article to discover how the Villa Maya team achieved a look that was custom by name and custom by nature with a Plungie.
Install a Pool Safely
As a builder, it may seem risky to oversee a pool installation, but rest assured, we've made this process a breeze. We're confident that you'll soon be adding Plungie installation to your list of services.
To start with, Plungie pools are a product you can trust. Our pools are built to suit the most common soil conditions, and each model has pre-engineered specifications that make getting building approval easy. They're so strong that each pool comes with a 10-year structural warranty. Because we know how much steel and concrete is in a Plungie down to the gram, we've also developed detailed lifting diagrams so you can hire the right crane and avoid mishaps during installation.
On top of this, research shows that offsite production actually increases safety on construction sites. The Advanced Industrialised Methods for the Construction of Homes (AIMCH) Report found that offsite assembly can reduce health and safety hazards by up to 20%. The UK study stated that prefabricated parts reduced hazard exposure through manual handling, material movement, and trips and falls. Simply having fewer people on site also contributed to less exposure to hazards.
We've minimized the risks, so home builders really can have their cake and eat it too by offering pool installation to their clients. After all, why pool when you can Plungie?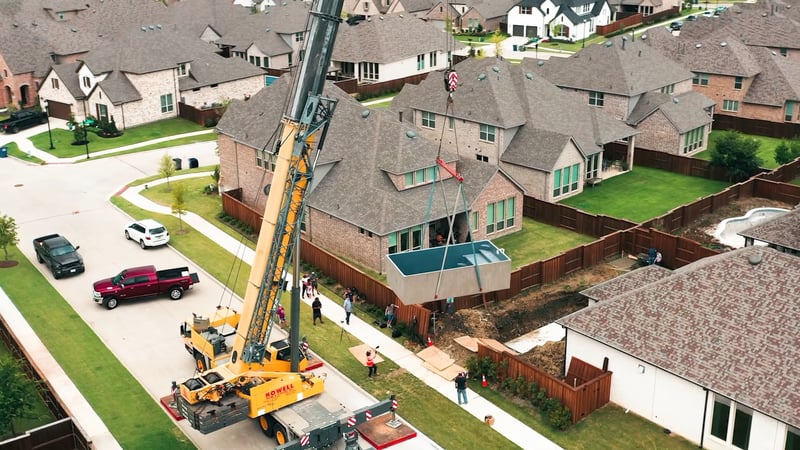 We can Focus on Being the Best Concrete Pool Builder
Working trade direct allows us to focus on what we do best — building high-quality, premium concrete swimming pools. Because we don't handle installation, we can dedicate all of our time to getting more pools to more people.
Our innovative, repeatable production process has meant people can start enjoying their backyard swimming pool sooner without waiting for the lead time of a custom pool. What could potentially take months can be delivered to your door in as little as two weeks with Plungie. From there, we can leave the installation in the capable hands of builders and let them do what they do best.
Lifting a Pool can be a Massive Task
We don't shy away from the fact that Plungies aren't ideal for some existing homes. Factors like site access, powerlines, and the presence of existing two-story homes can send crane prices higher than the lift itself. That's not to say it's impossible, and there are still plenty of homeowners that have overcome these challenges and achieved amazing results. By working with builders who are building new homes on vacant blocks of land, the true efficiencies of using a Plungie can come to light.
It's clear to see why working trade direct is a win-win scenario. Builders can oversee pool installation as part of their normal business operations, and homeowners can get a cost-effective pool quickly. It ultimately makes backyard pool ownership more achievable, which is the reason we started Plungie in the first place. If you think a Plungie is perfect for your client's home or want to let your builder know about us, contact us or get an info pack today. We can't wait to hear from you!