With the ease and speed of Plungie, why stop at just one?
Thanks to our streamlined production process, you can have a Plungie delivered to site, ready to install, in as little as 10 days. Our scalable solution allows you to install multiple pools in one day with a single crane — perfect for multi-residential developments.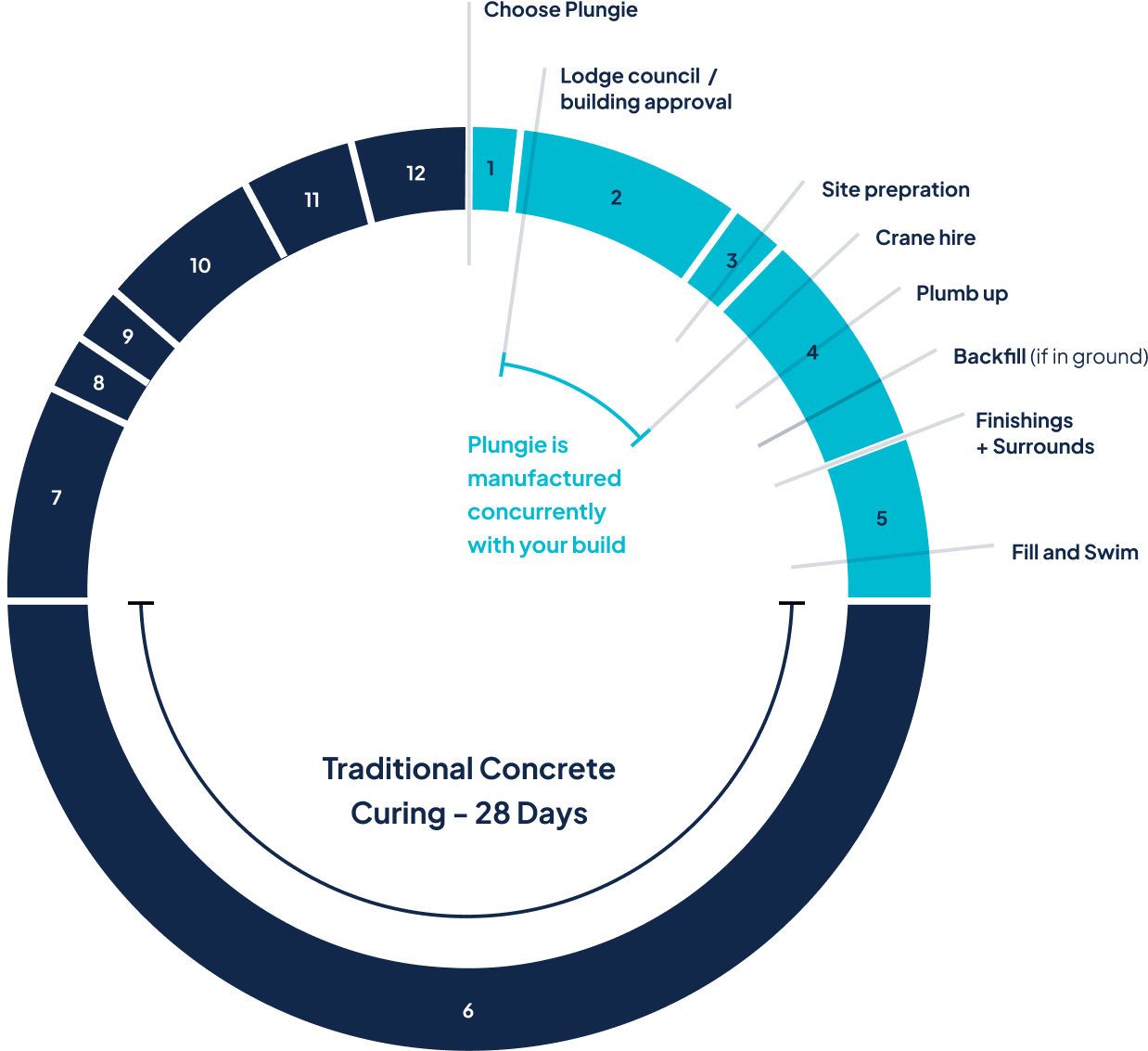 "Working with Plungie is just amazing... we can't fault their customer service. When we're comparing a precast pool to an in-situ built on site, it's an absolute no-brainer to use their product."
Managing Director, Graya Construction
"Super stoked! We met a 3-week deadline before the build on the neighbouring block started and we lost access. It has come up a treat, I'm not sure how many owner-builders take these on but it is well and truly achievable with the product you provide!"
Homeowner
"Now we have something a bit unique... it not only created a nice feature, but it was a very practical solution."
Property Developer
"It speeds our timeline of completion up dramatically when we're using the Plungie pool systems versus doing a standard gunite pool."
Eagle CDI
"A Plungie pool is a simple option because it's already prefab and ready to go. It was a crane operator, myself and my business partner... and we put this pool in no problem."
Luke Parsons Design & Build
Not all pre-cast pools are built equal
We've invested years of research and development into designing the best pre-cast concrete swimming pool in the market. Everything from the strength of the lifting points to the thickness of the walls has been carefully considered and backed by expert engineering to provide the highest level of durability and structural integrity for your projects.
Purpose-built, not repurposed
Shipping container pools and rainwater tank pools and are not designed to withstand the stresses of being filled with water and subjected to the movement of swimmers. In contrast, every aspect of a Plungie has been specifically designed for use as a swimming pool, minimizing the risk of structural damage over time.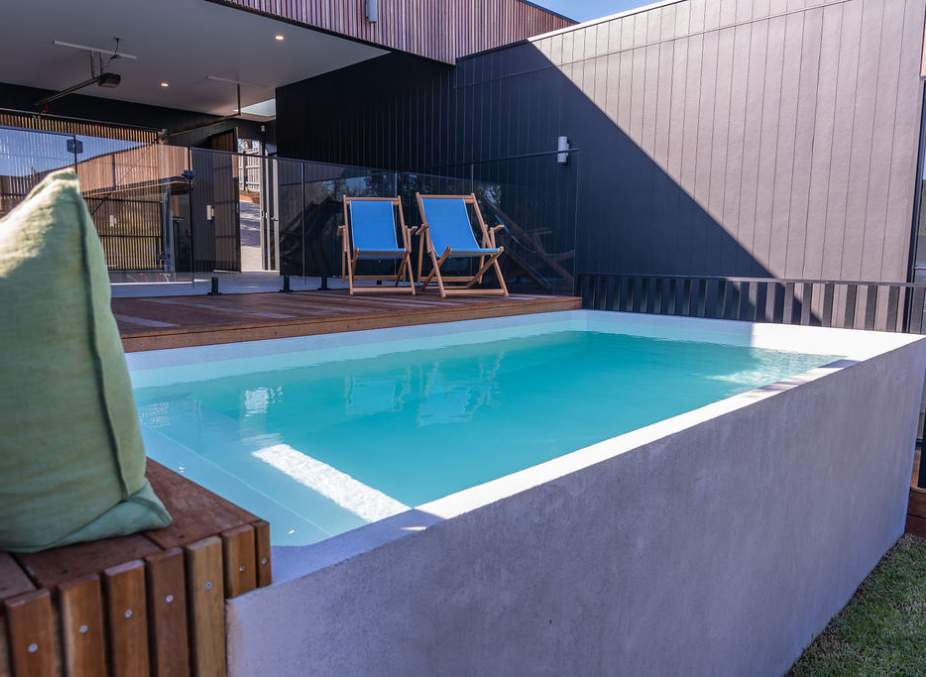 Seamless monolithic pour
Plungies are monolithic structures, made from one single pour of concrete with a void beneath the stairs. This creates a seamless pool shell, with no cold joints that could weaken the structure over time. A Plungie is at least a ton lighter than pre-cast pools with added concrete stairs.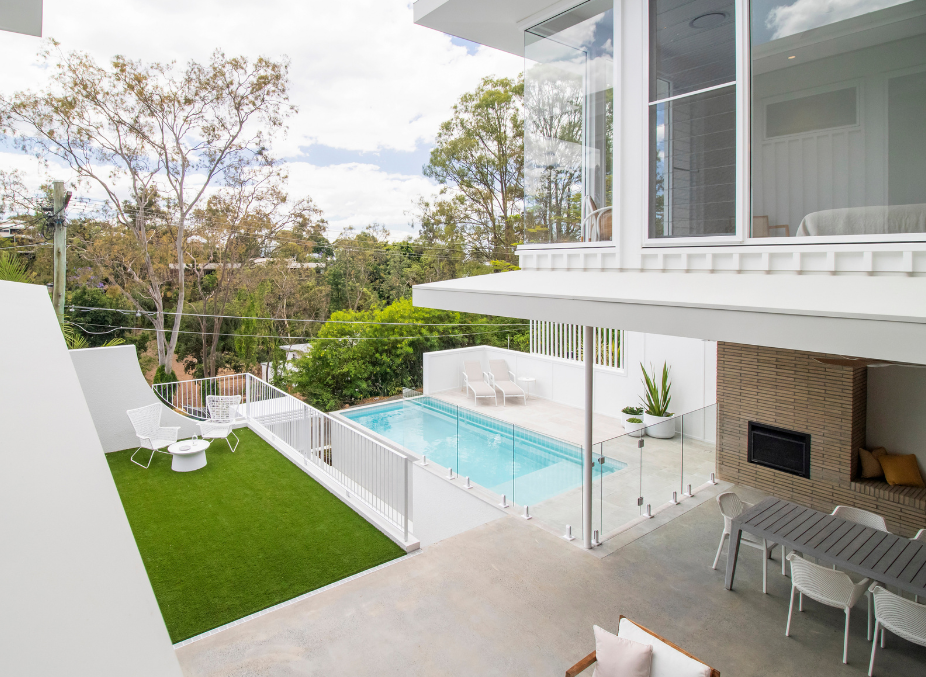 Patented, award-winning design
Our award-winning, monolithic design is patented, so you won't get the same level of innovation from any other pool manufacturer.

Learn more
For any project, any size, the possibilities are endless with Plungie
While the quality of every Plungie is consistent, no two projects are the same. With your choice of interior finish, exterior finish, and pool surrounds, a Plungie can be completely tailored to each of your projects. That's right — you can enjoy the efficiency of a prefabricated solution without compromising on design or quality.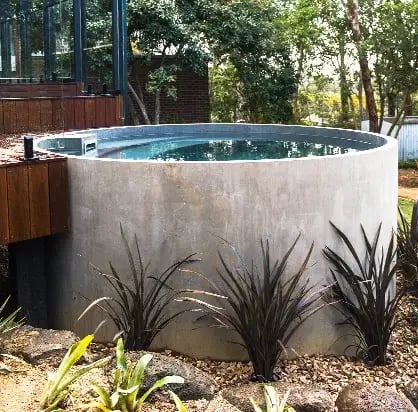 Difficult block? No problem
Our pool models are engineered for strength, and can even be used to retain earth. This makes in-ground, above-ground, and semi-recessed installations easy. From sandy soil to sloping blocks, you can make the most of your site with Plungie.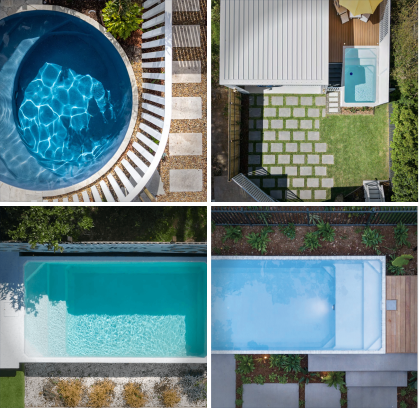 Four versatile sizes
Our four pool sizes are suitable for blocks of all shapes and sizes. No matter the size of the site, or the level of access, Plungie pools can be craned into place with precision. From spacious beachfront residences, to tight city builds, we have a solution for your project.
Customizable finishes to suit any project
With six ecoFinish colors and the option to add a waterline tile provision, every Plungie can be adapted to suit your project. We can even deliver the pool with a raw concrete interior so you can add custom tiling. Not to mention the options for the pool exterior and surrounds.
Easily specify a Plungie into your next project
Plungie BIM solutions have been developed to industry best practices — enabling you to easily and efficiently plan, design and specify a pool into your next design. Download our BIM content library including Autocad, Revit and Archicad.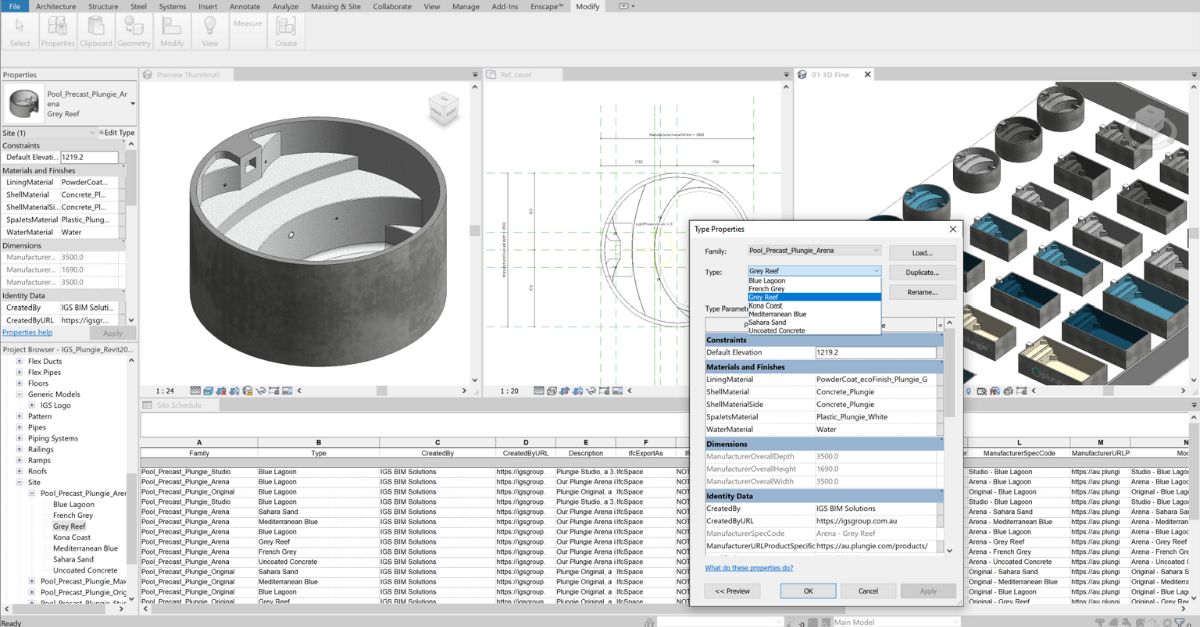 We've manufactured and delivered more pre-cast pools than any other company
We're setting the standard for pre-cast pools, with unmatched quality and experience. We've successfully manufactured and delivered thousands of pre-cast concrete pools — more than any other pool manufacturer in Australia.
Over the years, we've gained invaluable learnings and have continued to improve our quality control standards. We're confident in the quality of our product, which is why every Plungie is backed by a 10-year structural and internal ecoFinish warranty.
Highest quality concrete mix
We've partnered with Australia's leading concrete supplier to create the best possible concrete mix for our pools. Our pools have a compressive strength of >50MPa, compared to some other pre-cast pools with a compressive strength of 40MPa. So, when it comes to strength, nothing compares to Plungie.
Quality assurance at each stage of production
Our off-site manufacturing process allows us to assess quality at each stage of production so that a Plungie only leaves the factory floor once it's perfect. We even track the progress of each pool using iAuditor software to ensure that no detail is overlooked.
Class 2 concrete exterior finish
Each Plungie has a smooth, Class 2 concrete finish, perfect for architectural applications. While there are many ways to customise a Plungie exterior, including rendering, cladding and tiling, the raw concrete finish complements many architectural styles.
Ready for an efficient and scalable pool solution?
Call us on
855 758 6443

or