Are you ready to upgrade your outdoor entertaining space and create the ultimate relaxation hub in your backyard? If so, consider investing in a round pool. Round pools offer so much more than just their eye-catching curved lines; they provide unique advantages when it comes to entertaining and swimming pool maintenance.
The Plungie Arena is one of the most versatile round plunge pools on the market, with countless options for installation and customization. Here's why you need a round pool in your backyard and, more specifically, an Arena.
Great For Entertaining
There's a reason our round plunge pool is called the Arena. With plenty of bench space, it's the perfect place to relax and watch the world go by. Although it's compact, there's still more than enough room for friends and family. In fact, at the 2023 International Builders' Show, we fit 6 grown men comfortably in an Arena, so you won't have to limit the guest list for your next barbecue.
Suitable For Backyards Of All Shapes And Sizes
Many homeowners with limited yard space think that installing a pool is simply not an option for them, but the Arena makes this possible. The round pool shape lends itself to tight, awkward spaces, including backyard corners and patio areas. The pool's compact size also means that it won't take up the whole backyard, so you can create multiple outdoor living zones even on smaller blocks.
Show-Stopping Landscape Design Feature
We love to say that the Arena is designed to be designed. Although it looks great installed in-ground and semi-recessed, the Arena stands out in fully above-ground installations where the round shape and smooth, concrete exterior can truly be appreciated.
The Arena complements a variety of landscape styles and designs, including tropical gardens and desert-style gardens. The curved lines can mimic arches and curved garden beds, or provide a striking contrast to the straight lines in timber decking. So, if you're looking for the ultimate statement piece for your backyard, look no further than the Arena.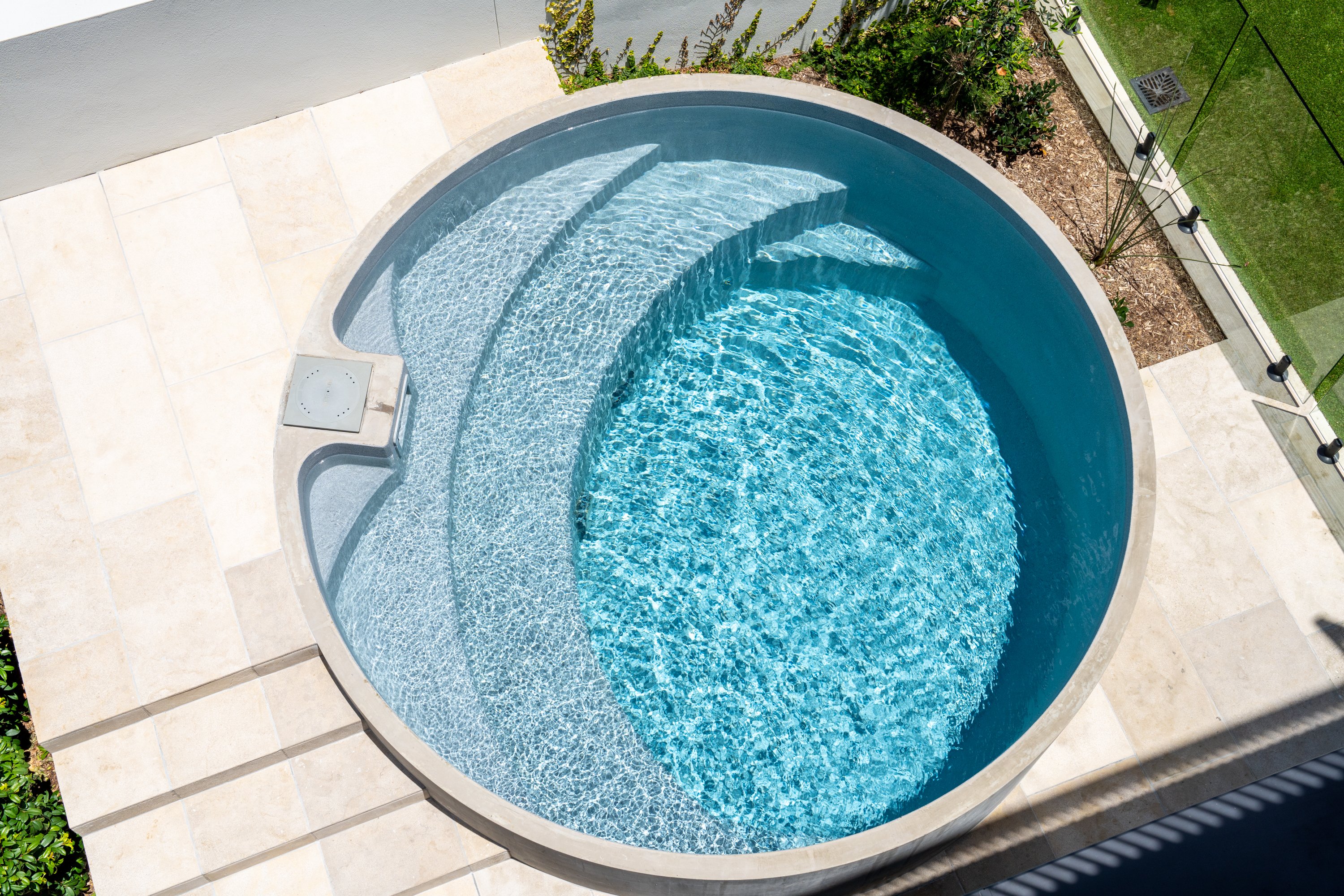 Can Be Used All Year Round
You can truly have the best of both worlds with an Arena. During the summer, it's the perfect spot to sit back, relax and crack open a cold beer. During the winter, you can turn on the heating and spa jets to enjoy that spa feel. Learn more about the Plungie add-ons and modifications that can help you enjoy the Arena all year round.
Perfect For Relaxation And Recreational Swims
When it comes to relaxation, an Arena is all the pool you need. With room to lounge, float, and unwind, we guarantee that it will become your go-to spot after a long day at work. The option to install a saltwater or magnesium mineral pool system is an added benefit for those looking to relax their muscles and joints.
Easy Pool Maintenance
Because of its compact size, the Arena can be heated more efficiently, is easier to clean, and requires fewer chemicals for ongoing pool maintenance than larger pools. This makes the Arena a cost-effective and low-maintenance option for homeowners looking to install a pool.

Arena Frequently Asked Questions
How Big Is The Arena?
The Arena has a diameter of 11' 5" and a height of 5' 6½", making it a great solution for properties with limited backyard space. The typical water depth is 4' 11" so you can enjoy recreational swims and relaxing floats.
Can It Be Installed Above Ground?
Absolutely! Some of the most impressive Arena installs have been fully above-ground, where you can admire the shape and exterior finish of the pool. All Plungies are installed on a pre-engineered concrete slab to ensure your above-ground pool will be safe and secure for years to come.
Can I Tile The Pool Exterior?
Yes, both the exterior and interior of the Arena can be tiled to align with your landscape design. We can provide your Plungie without the internal ecoFinish coating at a reduced price so you can make it your own.
Are Round Or Rectangular Pools Better?
This is like asking us to choose a favorite child! It's not a question of which shape is better, but which shape is better for your project. If you're looking for a plunge pool for a smaller backyard or a show-stopping landscape design feature, then a round pool is perfect for you.
Now's the perfect time to enhance your lifestyle and backyard space with a round pool. Chat to our friendly team or request a quote to secure your Plungie Arena today.