Prefab and precast are two terms often used interchangeably in construction, but there are distinct differences between them. Even though a Plungie is both prefab and precast, not every concrete structure fits both definitions. Let's break down the differences between prefab and precast structures, including the pros, cons, and applications for each.
What Is Prefab?
In case you haven't read our article, What is prefab construction and how does it work, prefab refers to structures (or parts of a structure) that have been built off-site. There are 3 main systems that come under the prefab umbrella — 3D prefab, 2D prefab, and hybrid systems.
Where Might You Find Prefab Construction?
While you can find prefab structures everywhere, from flat-pack furniture to modular homes, they all start in the same place — a factory. Prefab structures use many materials, including wood, steel, and (our personal favorite) concrete.
Benefits Of Prefab Construction
Moving construction off-site can speed up construction by up to 50%, helping projects and budgets stay on track. Specialized machinery and equipment are used to create components in a quality-controlled environment, so prefab structures are also very high quality. On top of this, there is less exposure to hazards in factory environments, so workplace health and safety are improved.
Disadvantages Of Prefab Construction
The main disadvantage of prefab construction is the lack of customization. Although many prefab construction companies offer options for personalization, the efficiencies of prefab construction are achieved through mass production.
For an in-depth look at the benefits and disadvantages of prefab construction, read our article Pros and Cons of Prefab Construction.
What Is Precast Concrete?
Precasting is a prefabrication technique that involves pouring concrete into reusable molds and then leaving it to cure in a factory environment. Precast concrete is a popular alternative to site-cast (or in-situ) concrete as it has more protection from poor weather conditions during the curing process. This helps control quality and avoids project delays due to cold or wet weather. Precasting can be used to create standardized components like wall panels or complete, monolithic structures like a Plungie.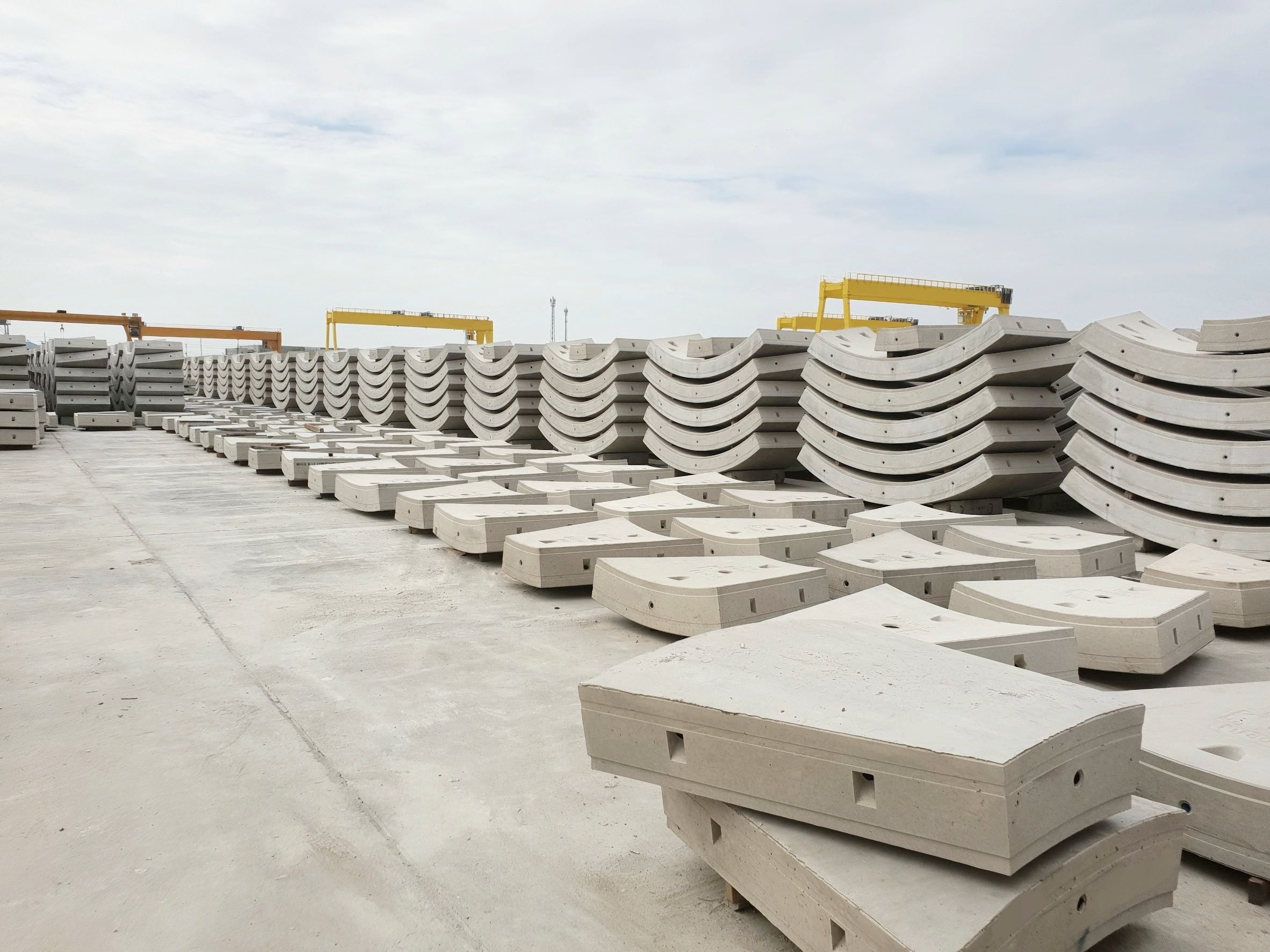 Where Might You See Precast Structures?
Precast concrete is extremely durable while still having a high-quality external finish. For this reason, you'll often see it used as an architectural element in building facades and bridges. It's not just a pretty face, though — the structural benefits of precast concrete make it suitable for building foundations as well.
Advantages Of Precast Concrete
There are many advantages of precast concrete when compared to in-situ concrete, including improved quality control and reduced formwork. Potentially, the most exciting benefit is the reduced embodied carbon in precast structures.
What Is Embodied Carbon?
Although we could get very technical about this (we'll talk your ear off for hours if you let us), embodied carbon is essentially the total emissions of a building throughout its lifetime — from the extraction of the raw building materials to the disposal of the building materials at the end of its life. According to National Precast, precast concrete can reabsorb up to 40% of its carbon emissions throughout its lifetime. Not bad, hey?
Disadvantages Of Precast Concrete
Like all prefabricated structures, precast concrete must be transported from the factory to the construction site. It's important to factor transportation costs into overall project budgets and ensure the precast components comply with transportation requirements.
Once the components arrive on site, care must be taken when lifting them into place, especially since contact with objects and equipment is the fourth-highest cause of non-fatal injuries in construction.
Recapping The Differences Between Prefab And Precast
At the end of the day, the difference between prefab and precast comes down to the materials used. Precasting is a type of prefabrication that involves pouring and curing, so it is specific to materials like concrete.
It's no secret that we're huge fans of precast concrete at Plungie. There aren't many construction methods that can provide efficiency, durability, aesthetic appeal, and environmental benefits in one complete package. That's exactly why it's our material of choice and should be yours, too.