Concrete pools are strong, durable, and affordable but that's just the tip of the iceberg — there's a whole host of other reasons why concrete's our material of choice at Plungie. For starters, a concrete pool will save you time in the installation process and money throughout its lifetime. We've put together a list of the benefits of a concrete swimming pool to show why you should consider choosing one for your home or next client project. With these perks, we're confident that you'll soon love concrete pools as much as we do!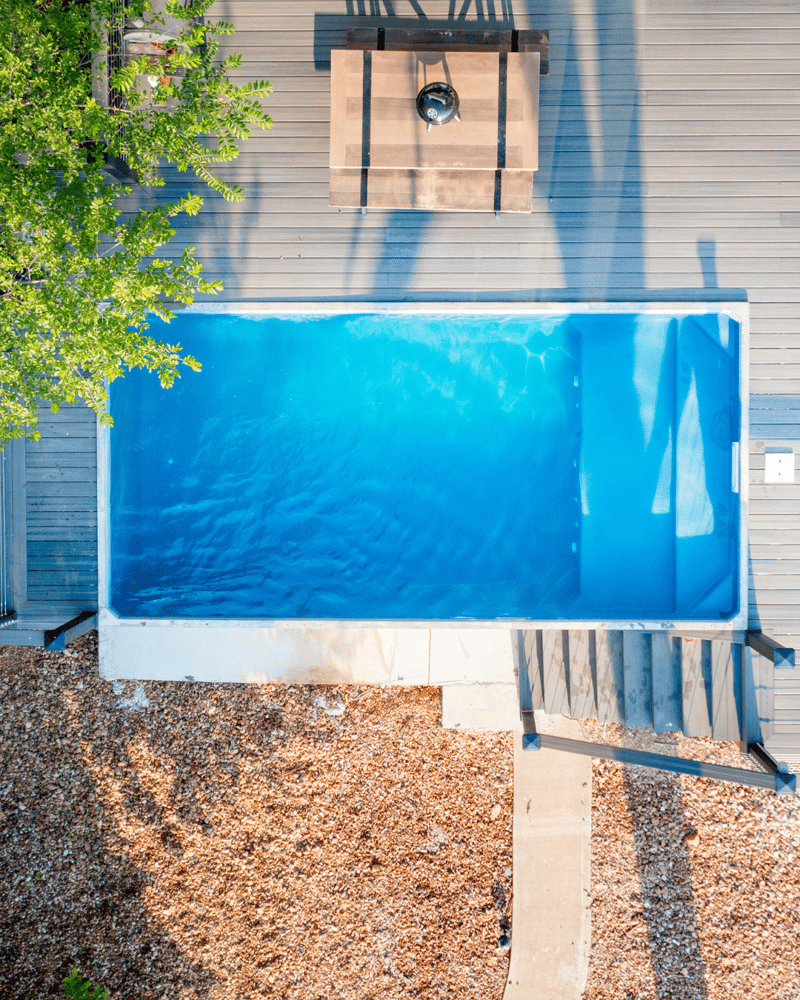 Most Durable Pool Finish
A swimming pool is a serious investment for any property, so it's important that it stands the test of time. In terms of durability, nothing quite competes with concrete. Unlike fiberglass pools, concrete pools are resistant to popping, fading, and peeling over time. Concrete pools are also able to withstand harsher weather conditions and are resistant to water chemical deterioration. This gives you flexibility in the water you choose for your pool — whether it's chlorine, saltwater, or magnesium mineral, a Plungie can handle it.
We're so confident of the quality of our pre-cast concrete pools that every Plungie comes with a 10-year structural warranty. With the correct maintenance, however, a concrete pool can last a lifetime. Here are a couple of easy steps to keep your Plungie pristine.
How to Maintain Your Pool
We've partnered with Hayward to bring you a standard equipment package that can be added to your order. Our package includes a pump, chlorine tab feeder, and filter to keep your pool healthy and happy. If you'd like to upgrade outside of our standard equipment package, it's best to speak with Hayward or another supplier directly.
Invest in a Robotic Cleaner
We also recommend purchasing a robotic pool cleaner to keep your pool walls clean and prevent permanent discoloration from algae and other nasties. While we don't sell robotic pool cleaners, you can find them at reliable pool equipment providers.
Best Pools for Sloping Blocks
Is there a space on your site that you'd love to utilize but don't know how? It could be the perfect spot for a concrete pool! Our pools are made from high-grade concrete so that they can withstand more pressure than traditional pools. This means they can be installed on sloping and uneven sites with minimal excavation. Whether you want to install a pool fully above-ground, fully in-ground, semi-recessed, or even on a rooftop — Plungies can help you achieve your project's most ambitious design goals.
Versatility is our middle name — Plungies are also the perfect solution for sandy soil, and our range of models means there's a size to suit almost any block. On top of this, they're strong enough to double as a retaining wall on your block. To find out more about maximizing tricky spaces, check out our article, Reclaiming unusable land: Using a Plungie pool to make the best of a difficult block.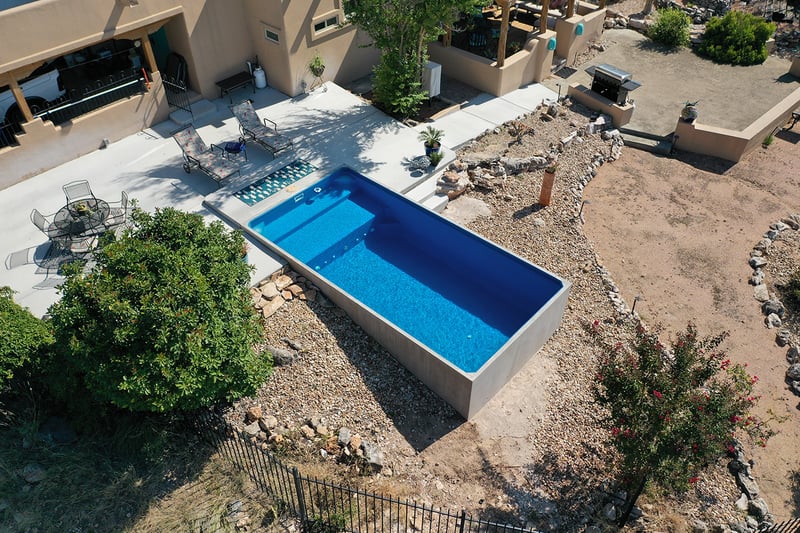 Concrete Pool Finishes
A concrete pool offers opportunities for personalization that simply aren't available with vinyl-liner or fiberglass pools. You can personalize the interior coating of a Plungie with a choice of 6 ecoFinish colors and choose from a range of extras, including pool heaters and an automatic pool cover to take your concrete pool to the next level.
Once you've chosen these features, it's time for your creativity to shine through in how you integrate the pool into your space. You can add pool coping tiles and exterior tiles to your in-ground pool to help it tone in with your home and backyard. Semi-recessed and above-ground pool exteriors can be rendered, painted, clad, or left with a raw concrete finish depending on what will align with your space. This flexibility allows homeowners and builders to work together and create a concrete pool that fits seamlessly into the landscape and surrounds.
Easy Pool Installation
We understand that, in construction, time is money. That's why we developed a revolutionary production process that allows you to get a high-quality concrete pool in just days, not months. You won't just save time in the production process with a pre-cast concrete pool — the installation will also be a breeze.
As we've mentioned time and time again, concrete is strong. It doesn't require as much structural reinforcement as a fiberglass shell, so you'll save time, trades, materials, and (most importantly) money throughout the installation process. Plungie pools are also pre-engineered to cover a range of soil classifications. This will save you time in the certification process and help you get building permits from your local government faster. Choosing a pre-cast Plungie pool will reduce your overall project timeframe, meaning you can start enjoying your pool sooner rather than later!
Concrete Pool Cons
We love concrete, but like everything in life, it's not perfect. Here are some factors to consider before committing to a concrete pool.
Concrete is more porous than other pool building materials, so it requires regular cleaning to prevent algae buildup. Our ecoFinish interior coating completely seals the inside shell, so this isn't a big issue with Plungies. Add in the maintenance tips we outlined earlier, and you'll be good as gold.
Although you can personalize your concrete pool interior and surrounds, there are limited options for the size and configuration of your pool shell. This is part of the beauty of a Plungie, however, and makes pool installation fast and affordable.
The flip side of concrete's strength is that the interior feel of the pool is rougher than vinyl-liner or fiberglass. Our ecoFinish interior coating is softer than traditional pool pebblecrete, so will give you grip without being abrasive.
Even after taking this into account, we're sure you can see why opting for a concrete pool (especially a Plungie) on your project is a no-brainer. If you're interested in a Plungie for your property or a client's project, browse our pools online and get a quote and info pack today.