If you're considering a home improvement project in the new year, you're in good company! A survey of nearly 4,000 homeowners from Houzz found that 23% plan to start a home improvement project in the next year. But why are so many homeowners choosing to remodel? Not only is it a great investment, but almost a quarter agree that remodeling is more affordable than buying a new home. It also allows you to customize your existing home to suit your exact needs while remaining in the neighborhood you love. We've put together a guide to the best home improvements in 2023 so you can get inspired and join the trend.
Outdoor Designs
Leisure is the key theme for backyards in 2023, with more people optimizing their outdoor spaces for entertainment and relaxation. Here's how you can join the fun and improve your outdoor living in 2023.
Outdoor Entertaining Area
Maximize your outdoor space for entertainment by adding bench seating and a fire pit for family and friends to gather around. Although many affordable bench seating options are available, you can get creative with cinder blocks and wood pallets too.
Fancy yourself an entertainer? Outdoor kitchens are also becoming popular, allowing hosts to cook and socialize simultaneously. If you don't want to invest in a complete kitchen fit-out, why not start with a pizza oven? You could even convert one of your kitchen windows to a servery to bridge the gap between the kitchen and the outdoor area.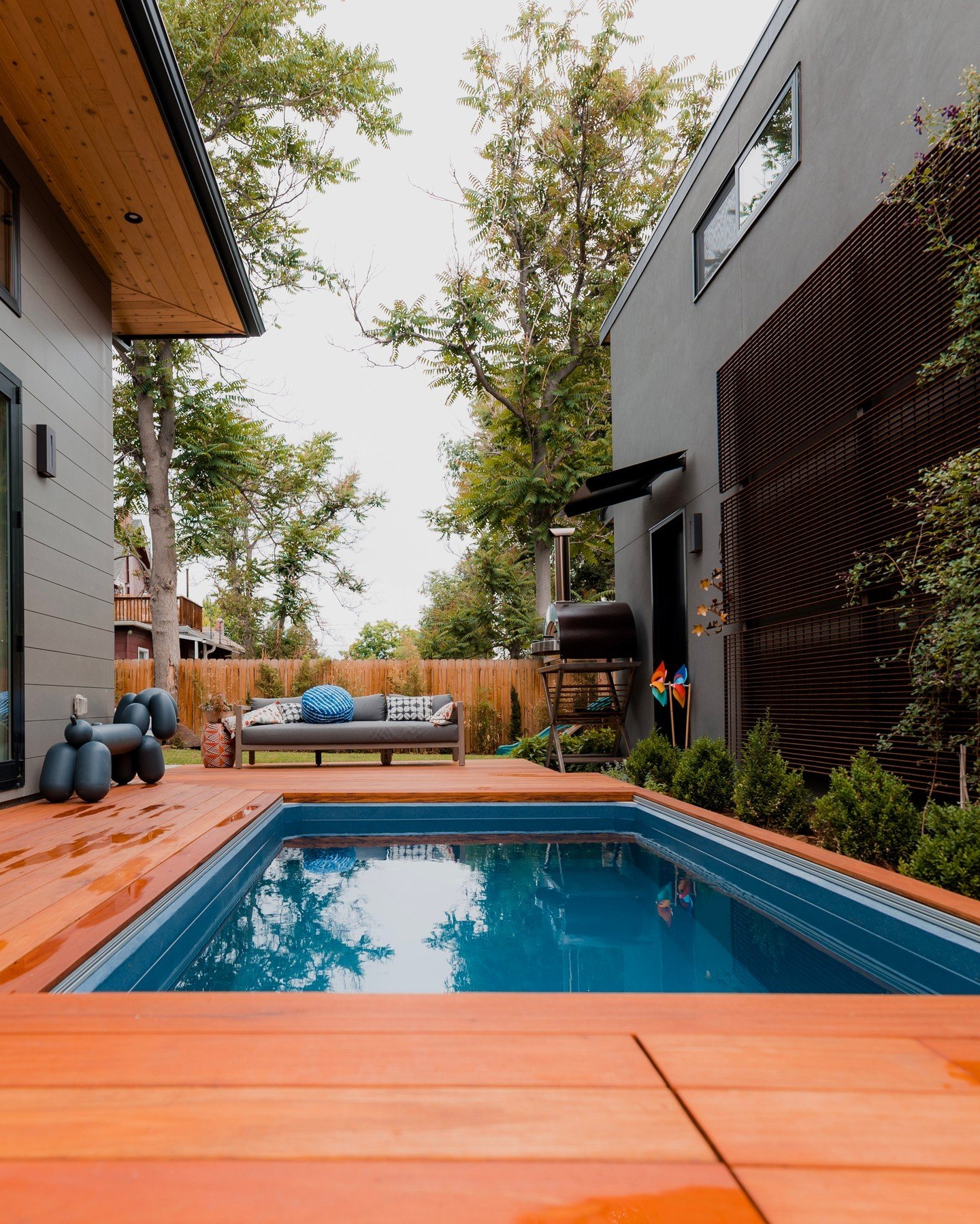 Add a Pool
Of course, we'd recommend this! But seriously, adding a pool is one of the biggest (and best) changes you can make to your outdoor entertaining area. Starting with the pool allows you to build your outdoor space around entertainment and lifestyle — more on that later.
Low Maintenance Gardens Ideas
People want to spend more time in their gardens in 2023 but less time gardening. As such, low-maintenance solutions like vertical gardens and irrigation systems are on-trend.
Homeowners are also opting for drought-resistant plants that don't require as much TLC. If you're keen to ditch the garden hose for a good book, consider succulents and other hardy plants like lavender.
Outdoor Lighting
Outdoor lighting is another easy but effective way to elevate your entertaining space. Whether it's fairy lights, up-lights, or strip lights, lighting solutions help create an ambiance for your outdoor area.
Add lights along pathways, in garden beds, or even via lit garden sculptures. What's better than art that transforms into a light installation after dark? Warm white party lights are also guaranteed to create a magical look when hung over your outdoor area.
Hot tip: All our pools come with a multi-colored LED light — incorporate this into your overall lighting plan to make nighttime something special!
Swimming Pool Designs
An outdoor home improvement measure that's sure to add value to your home is (you guessed it) a pool! Installing a pool is certainly a bigger undertaking than digging up your garden beds, but the value will come back in spades. Find out more in our swimming pool cost vs long-term value comparison.
Here are the other pool trends that you'll see everywhere in 2023.
Holiday Destination Inspiration
Why not replicate your favorite holiday destination in your very own backyard? We're increasingly seeing homeowners take inspiration from popular locations like Mykonos for their pool design. You can easily achieve a beachy look by adding a pool cabana and soft white furnishings to your pool surroundings.
Choosing a light pool interior coating will also help replicate turquoise island water. This trend aligns with our most popular interior, ecoFinish shade in 2022, Kona Coast. We predict a rise in Blue Lagoon in 2023, so expect to see more azure water across backyards next year!
Saltwater Pools
In line with previous years, the number of pool owners choosing saltwater over chlorine for their pool is set to increase in 2023. Saltwater is becoming a popular alternative to chlorine as it's cost-effective and gentle on the skin and eyes.
Personalize Your Swimming Pool
In terms of pool shape trends, there's no clear winner for 2023. Homeowners are more focused on choosing a pool shape that will integrate well into their backyard, whether square, rectangular, round, or free-form.
At Plungie, our most popular model in 2022 has been the Plungie Max (it's the largest precast, prefabricated concrete pool in the world, after all), but we've seen incredible finishes with all of our models.
Bigger Isn't Always Better
The days of the big backyard pool are numbered, with bigger homes being built on smaller blocks. As part of this trend, homeowners are choosing to create multiple zones in their backyard rather than add one statement piece that will dominate the space.
Sure, you could choose to build a bigger pool than what we offer, but why not experience the same benefits while leaving some space for the kids to play? Thousands of homeowners are enjoying the best of both worlds with a Plungie right now.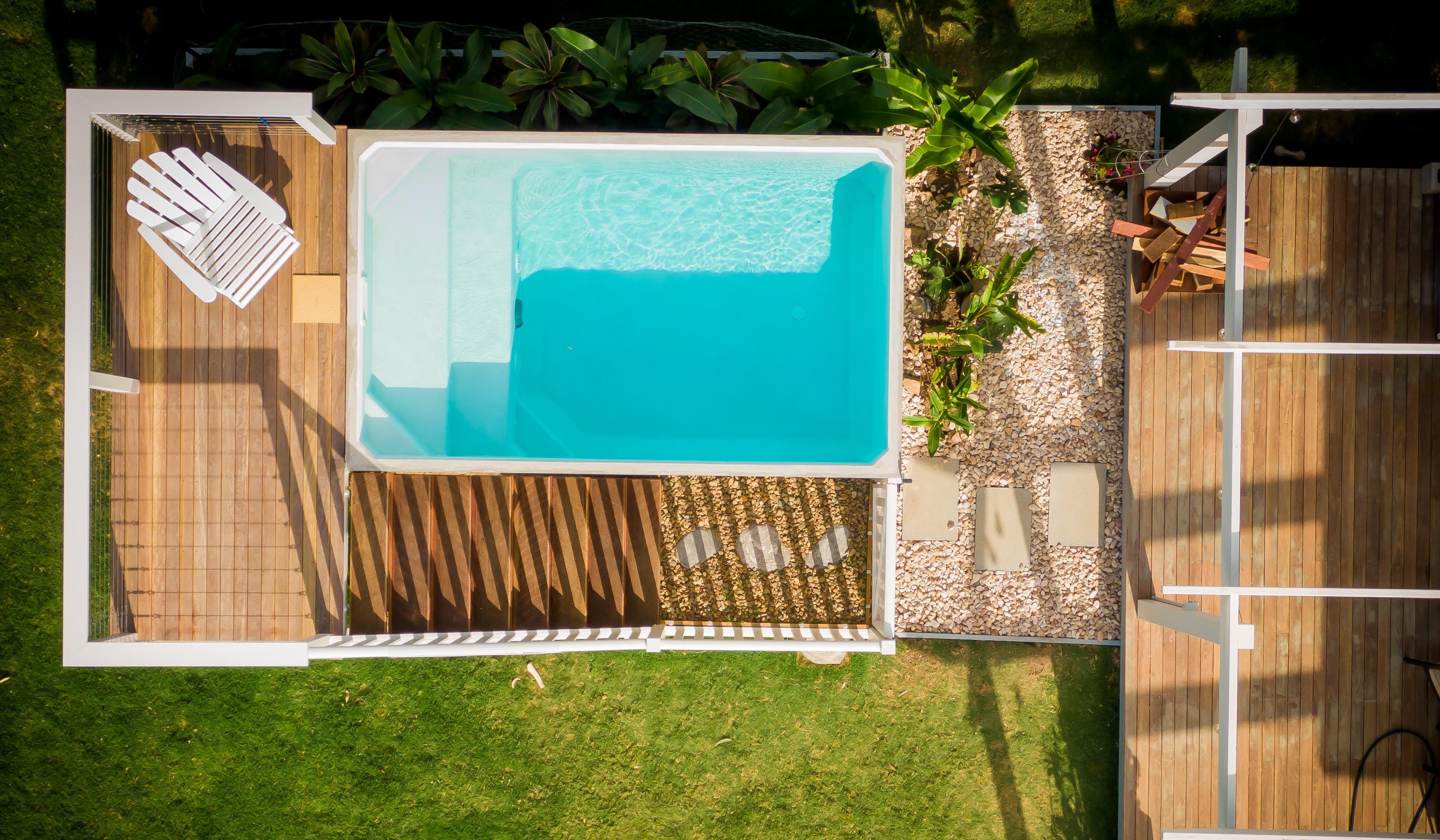 Pool Types
If you decide to install a pool as part of your 2023 home improvements, the material you choose will depend on your backyard, budget, and design concept. We've weighed up the pros and cons of the three most popular pool materials to make that decision easier.
Concrete Pools
You may be familiar with the many benefits of a concrete swimming pool from our blog article, but here's a recap. Concrete is the most durable pool material and can last a lifetime with the correct maintenance. Because concrete is strong, it can also withstand the pressure of being installed in-ground, above-ground, or semi-recessed. This gives you plenty of flexibility, especially if you live on a difficult or sloping block.
With these benefits come limitations, as traditional custom concrete pools can take months to build when you consider the curing process. This doesn't apply to Plungies, however, which are ready to install on delivery day.
Fiberglass Pools
Although fiberglass pool shells come in a wide range of shapes and sizes, they're not as durable as concrete and can pop, fade, and peel over time. Once a fiberglass pool is installed, you can't personalize the interior finish or add waterline tiles either.
The installation time for a Plungie is on par with a fiberglass pool as they both arrive ready to go. Only a Plungie offers the premium features of concrete, though.
Vinyl-liner Pools
Vinyl-liner pools are the most inexpensive out of the three pool materials. As well as being cheap to install, they offer more shape variations than fiberglass pools. While the initial cost of a vinyl-liner pool is low, they are expensive throughout their lifetime.
The liner is susceptible to chemical deterioration, so more maintenance is required to ensure the pool water chemicals are balanced. Depending on how well the pool is maintained, the vinyl liner will need to be replaced roughly every 8-10 years, so the maintenance costs can add up over time.
Interior Design Trends 2023
As much as we obsess over outdoor spaces, we know that your home's interior deserves some attention as well. Interior design trends in 2023 are geared towards creating fun, recreational spaces and making life easier with technology.
Dedicated Activity Zones
Many homeowners are creating dedicated activity spaces in their homes. Whether it's a home bar, media room, library, or rumpus room, these spaces have a clear recreational purpose and offer an escape from the outside world.
Achieving this trend is easy; simply dedicate a space in your home to an activity you love — pool room; here we come! Dedicated home offices are also here to stay in 2023 to accommodate working-from-home arrangements.
Smart Home Ideas
With phones in our hands, pockets, or close by most of the time, it's no wonder homeowners are leveraging apps to control the technology in their homes. For example, many people are utilizing security systems that can be easily monitored via their phones.
Similarly, smart WiFi light bulbs are becoming popular as homeowners can change the brightness and color using an app. To complete the transition to a smart home, consider adding a smart speaker to search the internet or control your music using your voice. With these hacks, you'll feel like you're living in the future.
Bold Paint Colours
Now's not the time to be shy with paint colors. The popularity of vibrant colors is set to skyrocket next year as people look for ways to express their creativity and make their living spaces more joyful.
Before you get out the drop sheet and paint roller, we recommend drawing inspiration from popular paint brands. For example, Benjamin Moore's Color Trends 2023 suggests several color palettes to use for a fresh, cohesive design.
Now that we've given you plenty of inspiration, you can join thousands of other homeowners and get cracking with home improvement projects in 2023. If your plans involve a Plungie, contact our team for details or download a quote and info pack today.