In case you haven't noticed, our above-ground concrete pools look awesome. We put a large emphasis on quality throughout the whole production process, but one thing we're particularly proud of is a smooth concrete exterior finish. This excellent finish is no accident — it's a result of an expertly formulated pool concrete mix, carefully planned stages of production and rigorous quality assurance checks throughout. Although we can't give up all of our trade secrets, here's an insight into how we get the smoothest finish on our precast concrete pools. With a finish this smooth, you'll find it hard to cover up a Plungie!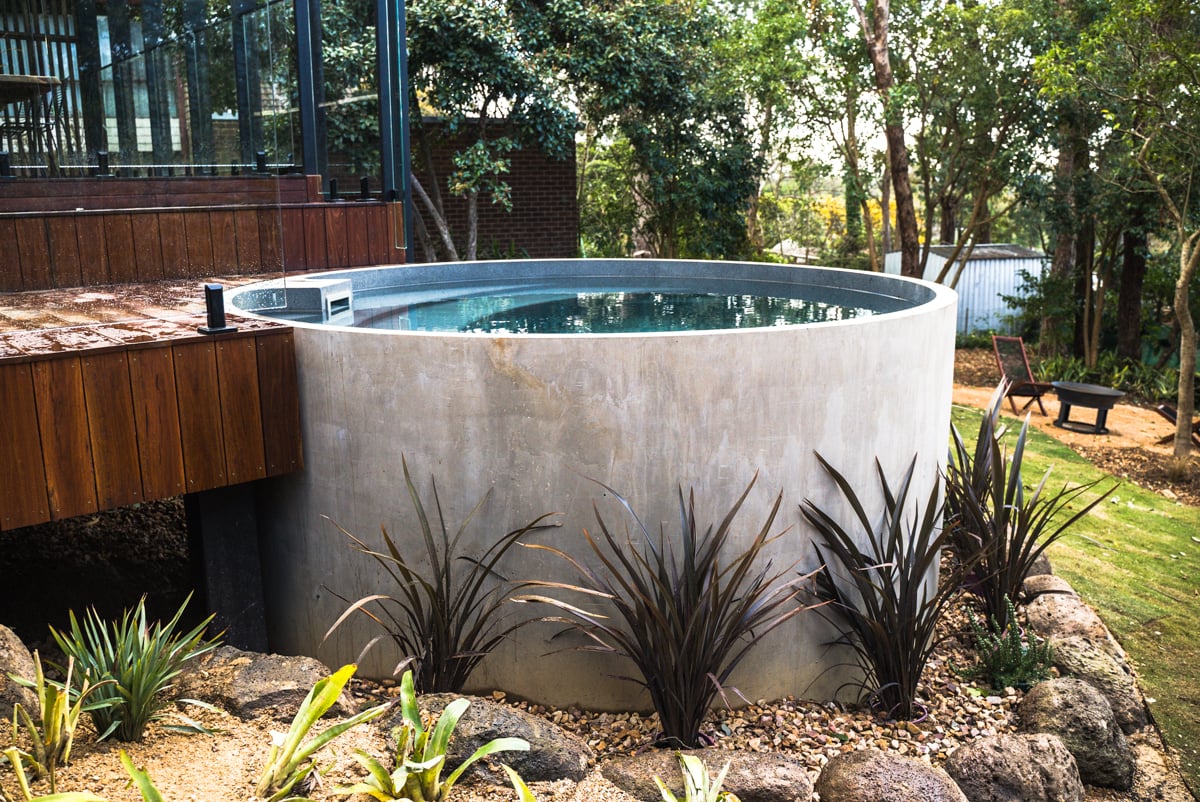 Why we Create the Smoothest Pool Finish
You may be wondering why we even bother with a smooth exterior finish — the pool's going in the ground anyway, right? That may be the case with pools that are designed to sit in-ground, but Plungies are so versatile that you have the option to show off the exterior if it suits your space. Our pools are made strong to withstand the pressure of being installed fully above-ground or semi-recessed depending on your design goals. To accommodate this, we've made sure that the finish is one that you'll be proud to show off.
What is a Class 2 Concrete finish?
When it comes to exterior finish, we hold ourselves to a high standard — an extremely strong Class 2 concrete finish, in fact. This is set by Standards Australia, so you can rest assured that our quality is sanctioned by a trusted industry body. In case you're not a concrete aficionado (we don't blame you), here's what a Class 2 finish means.
A Class 2 finish is suitable for concrete surfaces that will be seen up close and in detail. Although it's smooth enough for architectural applications, there are still imperfections that should be expected and these are normal in any precast concrete product.
For instance, there can be minor markings across the concrete surface and some variation in colour. Blowholes or bug holes are also acceptable for a Class 2 finish. Blowholes are small, hemispherical cavities that are created against the pool formwork during the manufacturing process. You can check out our minimum standards of external concrete finish to find out exactly what to expect from a Class 2 finish.
Under no circumstances should you try and modify the surface of your Plungie through grinding, core drilling or removing material. This poses a risk to the structural integrity of the pool and will void the 10-year warranty we provide. While imperfections on the exterior surface of the pool shell are inevitable, we have our own (secret) methods of minimising them to make sure every Plungie leaves the factory up to standard. If you need to repair or modify the pool, you can always reach out to our expert customer team for some technical guidance.
Concrete Pool Construction Process
At Plungie, we have three key stages of production and quality is top-of-mind at each one. First comes reinforcing, where the steel structures that give the pool its strength and shape are created. The next stage is casting, where the concrete is moulded into the pool shell. Finally, we have the finishing stage, which involves applying the ecoFinish interior coating and fitting out skimmer boxes and piping.
Our in-house quality assurance monitoring team ensures that no Plungie progresses to the next stage of production until it's up to scratch. Every element is captured and controlled for QA purposes. They assess quality at each stage and won't allow a pool to move down the production line without being approved first. If we find that a pool exterior doesn't qualify for Class 2 finish, we'll make sure rectification works are carried out to bring it up to standard.
On top of this, we keep a sample from every pool on the factory floor and strength test it multiple times in our concrete testing lab to comply with NATA assessment standards. You can be confident that each and every Plungie meets minimum strength standards before it's released for delivery and will be ready to be lifted into position once it arrives on your site. More importantly, it'll be safe for shipping and lifting and equally importantly, safe for the family to dive right in and start enjoying!
What About Interior Pool Finishes?
We're obviously pretty proud of our smooth concrete pool exteriors, but what about the interior finish? After all, this is the surface that homeowners will feel the most. One common complaint about traditional concrete pools is the rough interior finish of materials such as pebblecrete or plaster, which can cause scrapes.
This isn't an issue with Plungie's ecoFinish interior coating. This highly engineered form of powder coating is highly durable and luxurious to the touch. With a texture akin to pumice stone, ecoFinish provides grip without being abrasive on the skin. We can, of course, supply your Plungie without the internal ecoFinish coating at a different price if a tiled interior is part of your design plan.
Exposed Concrete Pool Inspiration
We love the look of exposed concrete — it's just one of the many ways you can personalise a pool and make it work with your overall design concept. One project where this finish worked particularly well is the River Hearth House. On this project, the above-ground Plungie Max was left with a raw exterior and completed with a brick platform to tie in with the architecture of the house.
Although exposed concrete may seem more at home in industrial surroundings, this is a perfect example of how the smooth, untouched finish can blend seamlessly into a leafy, riverside property. Get an inside look into this project in our article Plungie delivers architectural versatility like no other pool can.

Can I Cover the Pool Exterior?
We promise we won't take it personally if you decide to cover the concrete exterior of a Plungie. Even if you don't want to show it off, a smooth finish will make it easy to tile, clad or render your pool exterior. The opportunities for personalisation are endless with a concrete pool and you can glean plenty of inspiration from our projects in focus.
You've probably noticed at Plungie, quality is king. Although we have some other tricks up our sleeve, the controlled production environment and rigorous quality assurance process are ultimately our secret to achieving the smoothest finish on our concrete pools. We're proof that a precast pool doesn't mean a lower-quality finish and, with countless ways to personalise your design, you won't need to compromise on looks.