Who do you call when you need five premium pools installed in a tight timeframe?
Plungie, of course. Our pre-cast concrete swimming pools can be installed 74% faster than a traditional pool, with fewer tradespeople required on-site. This made them an obvious choice for The Block 2023.

With endless customisation options, each House was able to create unique backyard designs worthy of their luxurious homes.
Kyle and Leslie's Arena
Kyle and Leslie opted for a Plungie Arena in Mediterranean Blue. Above-ground installation was a great choice for this backyard as it allowed the round shape of the pool to be truly appreciated. House 1's landscape design is a great example of how the Arena can enhance lifestyle and property value without sacrificing too much backyard space.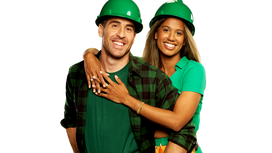 Want to find out more about the Plungie Arena?
Leah and Ash's Arena
Leah and Ash followed suit, with an above-ground Plungie Arena in Mediterranean Blue. Choosing a darker ecoFinish colour for the pool interior created a beautiful mirrored effect that reflects the pool's surroundings. Not only did the pool create an architectural feature in their yard, but the install was completed on the same day as House 1. Just another example of how Plungie mixes style and practicality.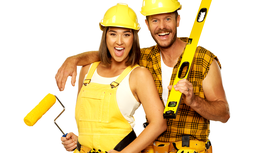 Want to find out more about Plungie Arena?
Kristy and Brett's Max
Kristy and Brett's Plungie Max in Blue Lagoon is proof that our pools are a solution for any space. Installed in-ground in their front yard, the pool was lifted into place over two of the other houses. With our detailed install guide and an experienced crane operator, the installation went off without a hitch.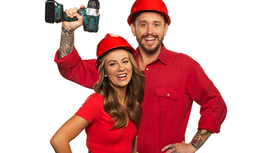 Want to find out more about Plungie Max?
Steph and Gian's Original
Steph and Gian's site presented some challenges, with an easement at the back of the block and plenty of tree roots that prevented excavation. This made above-ground installation the only option. Plungies are engineered for strength, so installation was done in a fraction of the time and for a fraction of the cost of a traditional above-ground concrete pool.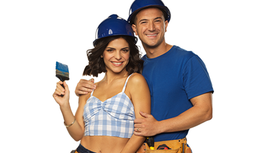 Want to find out more about Plungie Original?
Eliza and Liberty's Original
Eliza and Liberty's install showed off the scalability of our service, with their Plungie Original delivered on the same day and installed with the same crane as House 4. They chose a Kona Coast ecoFinish interior, which aligned perfectly with the house and landscape design. The end result was crystal-clear blue water that would be hard to resist after a long day.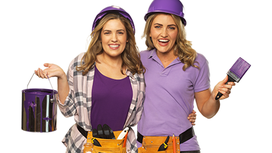 Want to find out more about Plungie Original?
Keep your site safe with Construction Covers
Each Plungie on The Block was installed with a construction cover so the teams could work safely around the pool as the renovations continued. This meant that every pool could be installed before access to the yards disappeared, and work began on the second storey of each home. Not only do our Construction Covers save you hundreds of dollars in external hire fees, they're reusable, so you can continue saving money on future projects.
Want to find out more about our innovative pool solution?
Call us on
1300 758 644

or