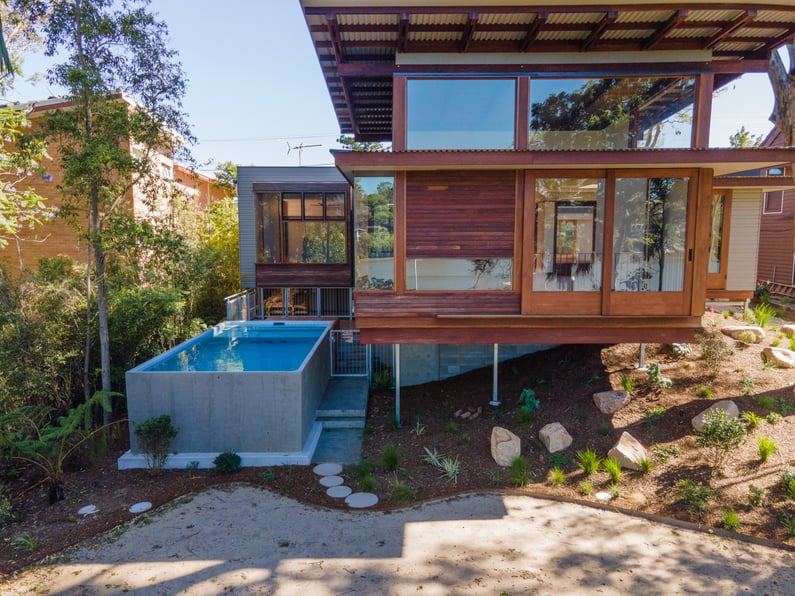 When it comes to building a dream home the list of requirements from homeowners will almost always outweigh the budget available. For Bluebird Design & Build the challenge was no different when they took on a near full knockdown and rebuild project for a house beautifully positioned on the Brisbane River in Chelmer. Christian from Bluebird explained "The existing fireplace was the only thing left behind of the original house, so we've tied that into the existing house by using a lot of brick" which includes the finishing details around a stunning Plungie Max that has become central to the new house.
At the beginning of the project there were many cost-conscious considerations for Bluebird to navigate but Christian says "Plungie came to mind straight away." The versatility of the Plungie allowed Bluebird to deliver a new pool into the property and add finishing touches like the exposed concrete side and brick platform which tie in seamlessly with the architecturally designed home. The pre-cast production method of the Plungie allowed Bluebird to crane the pool in at the start of the project reducing the on-site man hours normally required to deliver a custom designed pool.
Watch now: Christian from Bluebird discusses the River Hearth House Project
The design of the Plungie also allowed Bluebird to navigate others challenges of the location – a sloping block in a flood zone. The ability to use a Plungie in-ground, semi-inground or fully above ground gave this Plungie Max and Bluebird an advantage over the challenging conditions. The Plungie Max sits on a platform close to the main house and has been recessed into the sloping block to solve these problems – all with the budget of the client in mind.
The architectural design of Matt Kennedy from Arcke focussed the attention of the kitchen, living spaces and master bedroom towards the Plungie and onto the Brisbane River in order to capture light and reflect it into these common spaces. Final details around the pool like waterline tiles and an integrated skimmer box customise this Plungie and make it the perfect addition to any architecturally designed project.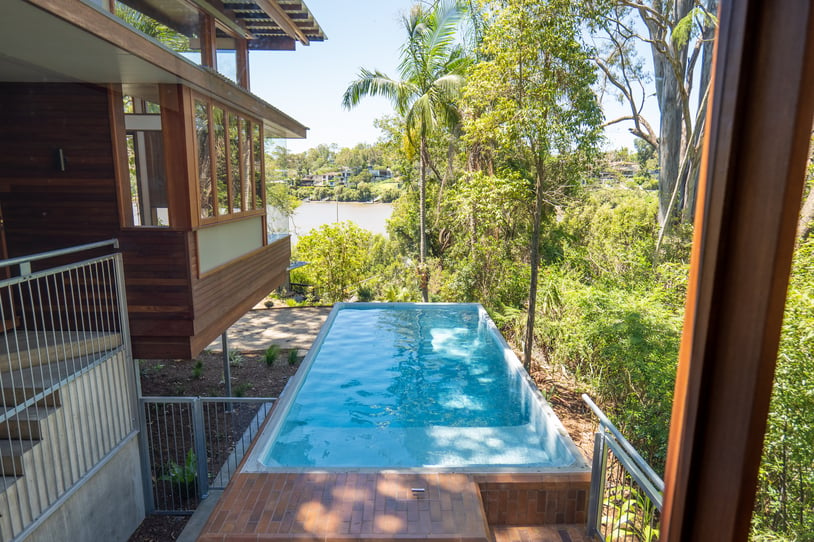 Caption: View from Master Bedroom
With summer just around the corner the owners will be able to relax and enjoy their new home while overlooking their new pool and the Brisbane River. Plungie and Bluebird will be working together again soon to deliver another bespoke home for another happy customer.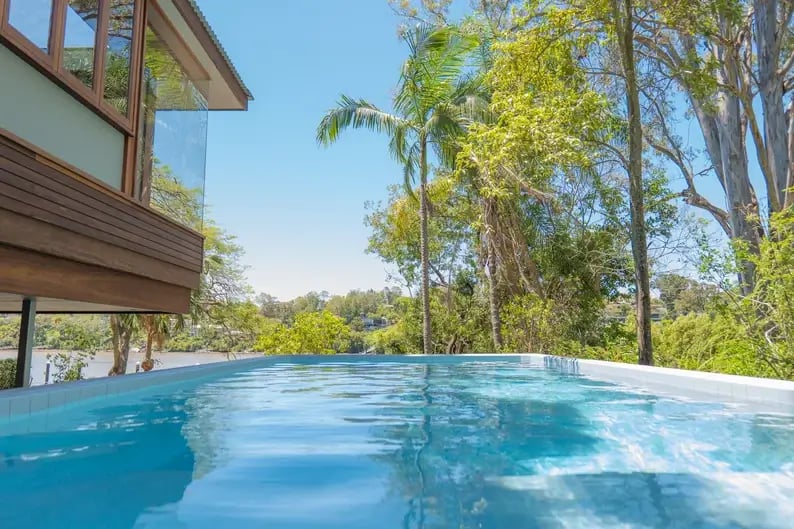 Project Name: River Hearth House
Location: Chelmer, Brisbane
Project Type: Knockdown Rebuild / Major Renovation
Product: Plungie Max
Installation Type: Above Ground
Architect: Arcke Architecture & Interior Design
Builder: Bluebird Design and Build